Wow, a busy year passes by and Sync-One2 is more popular than ever.  It has become the go to tool for accurate measurement of AV synchronisation, winning an Editors Choice award from ProTools Expert along the way.  Various customers now use Sync-One2 as their reference when calibrating systems or testing new hardware and software for products in development.
Sync-One2 has been exhibited at trade shows around the world too, in particular with this impressive trade stand from our re-seller in Japan.
This picture is from the InterBEE show in Japan, but they also exhibited Sync-One2 at the AES Conference in Japan too.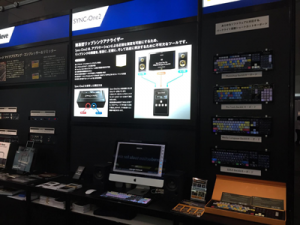 One the last year we have seen Sync-One2 deployed to correctly calibrate the audio and video synchronisation, and to help solve problems in various areas including;
Post Production facilities
Broadcast / Cable TV networks
TV & Film studios
Professional AV installations
Home cinema installation and calibration
Professional Digital Cinema installation and calibration (your local cinema may have been calibrated with a Sync-One2!)
various development projects for new AV, TV, and Streaming technologies
As displays become ever more complex with higher resolutions and greater processing for the likes of HDR, maintaining good AV sync is harder than ever.  Throw into the mix the new audio formats from Dolby and installations are getting ever more complex so being able to quickly and accurately setup the AV sync is more important for installers and end users alike.
Numerous bespoke test files have also been created for customers, so expect a revamp shortly of the test file download section to include more formats and types for use in specific areas.  Some of these downloads will be large, so please be patient if your internet connection is slow or limited.  If you need a specific file, then please do get in touch, we can generally create one for you pretty quickly.
We have also increased the numbers of re-sellers around the world to make it easier for customers to purchase Sync-One2.