Sync-One2 v2 has been in development for a little while now and is ready to make it's debut before going on sale in a few weeks time.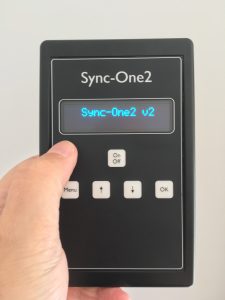 The original Sync-One2 has become a world wide reference tool for sync measurement, but over the years users have made requests for features and a number of custom versions have also been developed for special clients.  We have brought all the items together into an updated version.
So what does the new version give me?
Brighter OLED display, now blue rather than white.
Greater sensitivity for light and audio combined with improved self calibration algorithms.
3.5mm audio input, so you can take the audio from a line/headphone output (switch over is automatic).
Adjustable mask period for better performance in spaces with high reverberation times.
Higher stability internal clock reference, the display still rounds to the nearest millisecond, but internally it is more accurate than before.
Field firmware upgradeable for new features.
Mini-USB port provides data logging out and an API interface for remote control, to automate system adjustments or to take the data to certify a systems sync at the end of a project.  The port appears as a serial port to any PC or Mac and can also supply power.